Life is hard for both a commoner and a celebrity. While you and I may not face any backlash for our comments and opinions, celebrities are trolled for months and sometimes years for the same reason. What has happened to Demi Lovato in the last twenty-four hours is just ironic. The "Dancing with the Devil" singer is getting massively trolled by celebrities and the public alike for posting her opinion on one of her recent experiences of visiting a frozen yogurt shop.
Ironically, we criticize celebrities like her for not raising their voice, and when they do, we attack them for sharing their opinions. Secondly, it is high time that we stop treating big stars as Gods who are invincible and cannot commit any mistakes and rather use our wisdom to see them as fellow human beings. To those trolling the singing sensation mercilessly over something, they don't agree with, having some compassion for people will not cost them a fortune. After all, those exact people are waiting for days to get one autograph for these celebrities.
Demi Lovato Calls Out 'The Big Chill' For Promoting Diet Culture
Yesterday, when the "Confident" singer stepped into a small business shop – The big chill – she could not help noticing the hundreds of food items with the tag "Diet" and "Sugar-free" on them. The store sells frozen yogurt, and they had racks of sugar-free cookies and diet foods that the singer said triggered her. She mentioned that her experience of reaching the counter was horrible, and she constantly felt triggered and angry. On her Instagram story she uploaded, Lovato, 28, writes that the company is a big diet culture vulture, and she found it very difficult to walk through the aisles to order her food item.
In her next story, she posted her conversation with the business that has responded to her. They said they have been running the frozen yogurt business for the last thirty-six years and have catered to all kinds of people. How is it bad that now they are serving different kinds of variety for people who have diabetes, are vegan, and want to eat fat-free yogurt?
This Lovato said that they should make it very clear in their message that this particular food item is for this part of the demography. They cannot just put it all out there by catering to one part of the demography and impacting and guilt-tripping the other. She said that they could, of course, cater to whoever they want, but they should do a better job of placing their items and in-store messaging so that people who are suffering from eating disorders don't get triggered.
Demi Receives Backlash On Her Comment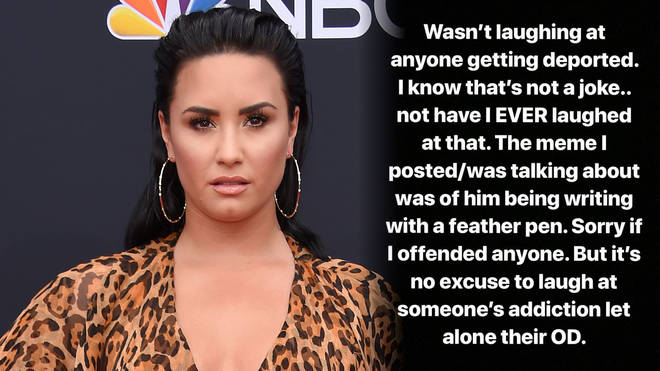 The Good Morning Britan, TV personality Piers Morgan, said he feels utter shame and disgrace at the celebrity to attack a small business. He further states that Lovato is arrogant and selfish to use her huge platform of one hundred and seven million fans to destroy a small business. Secondly, he also says that Demi is foolish for saying something like that. Celebrity Leah McSweeny said that the pop star is shameless for blasting a small business that's been catering to people for over three decades.
She also adds that Lovato cannot go about humiliating people to meet her needs. If she feels triggered by something so small, she needs to change and not the other way round.
What Popped Demi Lovato To Take these actions?
As we can see, the internet is blasting Demi for saying what's on her mind, but everyone has sided with the Yogurt store. But if we pause a bit and think about it, Demi is not entirely wrong. The super successful and talented actress has had bulimia in the past, which has accelerated her mental health condition with Bipolar. Lovato surely did not intend to make the business run out of money but trying to make the world easier to deal with for people who suffer from eating disorders.
Lovato is right to a great length in starting this conversation about how shops put messaging and advertising to sell a wrong idea to the world. Countless Demi are struggling with the same challenges that the singer once did, but not many cares.